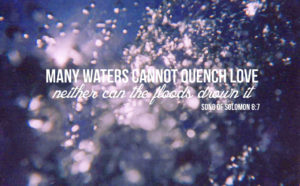 "Why is Song of Solomon even in the Bible," a frustrated woman once asked me. "I can't find any spiritual meaning in it!" Indeed, most of us would agree that the Song of Solomon may be the most perplexing book in all of scripture. Of course there are the obvious themes of marriage and passion, but it's so intimate that its almost uncomfortable to read.
I come from hardy stock. We are practical, efficient. Our married couples don't say things like, "Your hair is like a flock of goats" or "your teeth are like shorn sheep." (And if we did, we certainly wouldn't publish it!) Our conversations are mostly functional and flowery language just isn't spoken.
I began to wonder if maybe that wasn't one of the points that God was making when He included this poetry in the Cannon. Maybe He knew that, every once in a while, we need to hear some pretty words from Someone who loves us deeply.
"Many waters cannot quench love," we read, "nor can the floods drown it. If a man would give for love all the wealth of his house, it would be utterly despised (S.S. 8:7)." Then we realize that God is love (1 John 4:8) and that His love for us is unquenchable and more valuable than anything else in the world.
This is the point that Paul made in Ephesians 3:18 when he prayed that the Ephesians would be "rooted in love" so that they, "May have power, together with all the Lord's holy people, to grasp how wide and long and high and deep is the love of Christ."
This love isn't based on our merit, as the Song of Solomon points out. It's love story is about a king who fell in love with a normal girl. The more that we grasp God's great love for us, when there is no logical reason for it, the more grace and love we can give others. Until then, we will be like the unmerciful servant in Jesus parable found in Matthew 18. Though he had been forgiven an enormous sum of debt, he couldn't grasp how much grace that took and was, therefore, unwilling to extend even a little grace to someone else.
If we learn nothing else from the Song of Solomon, let us at least grasp, just a little bit more, how much God loves us.
(For those who have missed any of the previous lessons, you can go to https://comethirstyministry.com/blog/ and view all previous postings.)


Week Twenty-Eight
Day 1: Proverbs 27 (A Cranky Woman)
Day 2: Proverbs 31:1-31 (The Virtuous Woman)
Day 3: Song of Solomon 1:1-17 (Lovers)
Day 4: Song of Solomon 2:1-17 (Lovers)
Day 5: Song of Solomon 3:1-11 (Lovers)