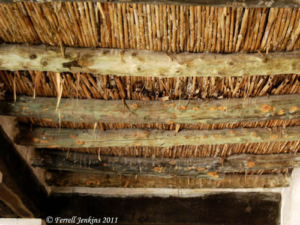 Every Sunday school student knows the story of the paralyzed man whose friends took apart the roof on a house in order to let him down to be healed by Jesus (found in Matthew 9). It's a thrilling story for sure!
We can imagine what love these friends must have had for the man in order to climb onto a roof and tear it apart for him. We can imagine the shock of the people standing below the roof as pieces of straw thatch began raining down on their heads. But we can also imagine the disappointment that the man's friends must have felt when, after all of that trouble, Jesus said, "Take heart, son; your sins are forgiven (vs. 2)."
Did Jesus not realize that the man couldn't walk?!?
It is here that Jesus teaches us an important lesson. It does us no good to pray that our unsaved loved ones change their behavior. We are so tempted to pray that our children stop doing this or that or that our friend stops getting themselves into predicaments that we end up bailing them out of. What a tragedy it would have been for paralyzed man to be able to walk, but to die in his sins. Behavior change isn't enough, heart change is what really matters. We must pray that our loved ones surrender their lives to Christ.
In the end, Jesus not only forgave the paralyzed man's sins, He told him, "Get up, take up your mat and go home (vs. 6)." When someone allows God to forgive their sins, He has the opportunity to work through the other issues in their life as well, and that is a beautiful thing.
We are so glad to have you in Bible study with us! If you miss a devotion, you can find them archived at https://comethirstyministry.com/blog/
Reading Plan–Week Two
Day One–Matthew 6
Day Two–Matthew 7
Day Three–Matthew 8
Day Four–Matthew 9
Day Five–Matthew 10