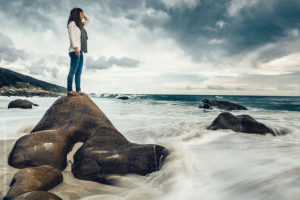 Jesus summed up His epic teaching in Matthew 5-7 with these words, "Therefore everyone who hears these words of mine and puts them into practice is like a wise man who built his house on the rock. The rain came down, the streams rose, and the winds blew and beat against the house; yet it did not fall, because its foundation was on the rock (Matt. 7:24-25)."
There are innumerable benefits to scripture study, the only thing that could possibly derail our faithfulness to it is if we read it, study it and memorize it- but don't actually do what it says. Romans 12:11 emphasizes this; "Do not lack diligence, be fervent in spirit, serve the Lord!" There is action attached to our faithful study of scripture or it means nothing.
This particular section is full. Give to the poor (but do it in secret) Jesus tells us. Invest our earthly resources in things with eternal purpose. Stop worrying! Seek God and He will let you find Him. We are given warnings about false prophets and told how to identify them. We are warned not to become hypocrites by judging the speck in the eye of another while carrying around a plank in our own.
In the end, this is all for our benefit! First, obedience proves our love for Christ. Second, standing firmly on the truth of God's Word in faithful obedience is what will keep us standing firm when the rain comes, the streams rise and the wind beats against us.
That's a promise straight from God.
We are so glad to have you in Bible study with us! If you miss a devotion, you can find them archived at https://comethirstyministry.com/blog/
Reading Plan–Week One
Day One–Matthew 6
Day Two–Matthew 7
Day Three–Matthew 8
Day Four–Matthew 9
Day Five–Matthew 10