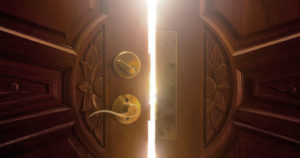 "He who testifies to these things says, 'Yes, I am coming soon.'
Amen. Come, Lord Jesus (Revelation 22:20)."
With a final greeting, John concludes the book of Revelation and we close our Cannon. After all that he had heard and seen about the end of times, John wasn't fearful of all of the judgements described in the book. Instead, what he had seen in Heaven was so incredible that it overshadowed everything and he couldn't wait for Jesus to come back.
What a let-down earth must have been for John after he had seen Heaven!
What a reminder to us.
Fanny Crosby, who was born blind, but wrote many hymns that are familiar to most of us, was told by a pastor, "I think that it is a great pity that the Master did not give you sight when He showered so many other gifts upon you."
She replied, "Do you know that if at birth I had been able to make one petition, it would have been that I was born blind?…Because when I get to Heaven, the first face that shall ever gladden my sight will be that of my Savior?"
That is the blessing of living with a Heavenly perspective. All of the things that take up our attention here on earth will be nothing, compared to what we have coming.
Paul said in 2 Corinthians 4:17-18, "For our light affliction, which is but for a moment, is working for us a far more exceeding and eternal weight of glory, while we do not look at the things which are seen, but at the things which are not seen. For the things which are seen are temporary, but the things which are not seen are eternal."
*Note: This is the last week of Women of the Bible. I'm so proud of you for sticking with it! I would love to hear what God did in your life this year through the study of His Word. You can contact me at https://comethirstyministry.com/contact/.
Also, don't forget to sign-up for this year's study through the New Testament. It's going to be amazing! Sign-up here: https://comethirstyministry.com/studies/. I can't wait to see you in the New Year!
Week Fifty-Two
Day 1: Revelation 18 (Everyone)
Day 2: Revelation 19 (Everyone)
Day 3: Revelation 20 (Everyone)
Day 4: Revelation 21 (Everyone)
Day 5: Revelation 22 (Everyone)