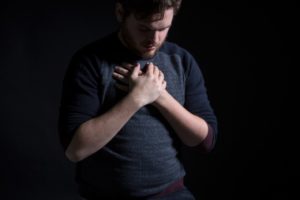 In Matthew chapter one, an angel appeared to Joseph and let him in on an important secret. The woman that he was marrying was going to bring the gospel–in the flesh–into the world! But, this wasn't just going to be Mary's ministry, the angel let Joseph know that it was his calling as well.
"Do not be afraid to take Mary home as your wife," the angel told Joseph. "What is conceived in her is from the Holy Spirit. She will give birth to a son, and you will give him the name Jesus, because he will save his people from their sins."
We don't hear very much about Joseph after this, but we do know that he stepped into his calling. He married Mary, protected her and Jesus from Herod's murderous intent by packing them up in the middle of the night and fleeing to Egypt (Matthew 2), and raised Jesus in church (Luke 2).
Accepting his calling would complicate Joseph's life in many, many ways. Marrying a pregnant virgin was likely not something that he had ever considered. Joseph didn't question it. He realized that he was uniquely positioned to be a part of the salvation plan. He and Mary were a package deal- in this together all the way. And their obedience was going to change everything.
You and I may find ourselves, like Joseph, in bizarre situations that we never saw coming, but that are divinely orchestrated. We may believe that our families are complete, and then God calls us to adoption. We may have spent years preparing for a prestigious career and then God calls us to full-time ministry. A woman I know, whose husband was a newly retired professional athlete, took a trip to Africa, was confronted with extreme poverty, and then and there dedicated her life to helping change things.
Like Joseph, we should accept our calling without fear. God would never ask us to do something that will not be completely worth it in the end. We never get a hint in scripture that Joseph would have changed a thing if he could go back and do it all over again. A life of obedience will be a life without regret.
***We are so glad to have you in Bible study with us! If you miss a devotion, you can find them archived at https://comethirstyministry.com/blog/
Reading Plan–Week One
Day One–Matthew 1
Day Two–Matthew 2
Day Three–Matthew 3
Day Four–Matthew 4
Day Five–Matthew 5