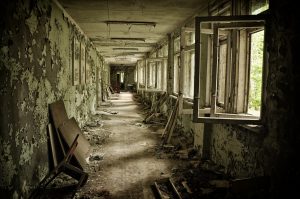 Do you remember the Chernobyl nuclear disaster in 1986? It was the largest industrial accident in history with nuclear fallout felt all over the world.
Interestingly enough, that tragedy was completely avoidable. You see, it was caused by two bored electrical engineers "playing around" in the control room late at night. For fun, they were performing an unauthorized and dangerous experiment that eventually led to the disaster. As they experimented, the computers kept warning them: Danger! Go no further! Stop!
Instead of heading the warnings, the engineers turned off the alarms one by one until disaster struck.
What a picture that is for us of the warnings in scripture. What we sometimes see as arbitrary rules is really God telling us: Danger! Go no further! Stop!
God will go to great lengths to warn His children of impending disaster. The book of Hosea is an example of God using an entire family to do just that! The warnings were meant to turn the people around, to change their hearts and their actions and to save them from the punishment to come.
"Come, let us return to the Lord," Hosea pleads. (Hosea 6:1)
Instead of ignoring God's warnings, lets be grateful for the protection that they provide and cheerfully obey them.
We are so glad to have you in Bible study with us! If you miss a devotion, you can find them archived at https://comethirstyministry.com/blog/
Reading Plan- Week Forty
Day One- Hosea 3
Day Two- Hosea 4
Day Three- Hosea 5
Day Four- Hosea 6
Day Five- Hosea 7