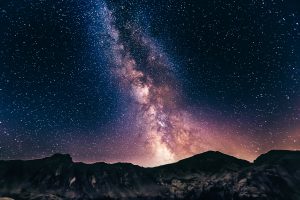 Have you ever asked: "How long, Lord, must I call for help and you do not listen or cry out to you about violence and you do not save?" (Habakkuk 1:2)
I have!
We look around and have to wonder, "God, why don't you do something?!?"
The prophet Habakkuk had certainly had enough when he prayed those words, but as much as we can identify with his sentiment, it's God's answer to Habakkuk that should really floor us.
God answered Habakkuk: "Look at the nations and watch- and be utterly amazed. For I am going to do something in your days that you would not believe, even if you were told." (Habakkuk 1:4)
I find that answer so comforting, don't you?
When life is impossible to understand, we can rest in the fact that God is so active that if He told us everything that He is doing, it would blow our minds. Sometimes we just need to keep praying and wait until we can see what God does.
After Habakkuk's conversation with the Lord, his entire attitude changed. He had been frustrated, hopeless and confused. His time with The Almighty shifted his eyes and his thinking from what he could currently see to what God was capable of. It changed everything.
Habakkuk ended his book like this: "The Sovereign Lord is my strength, He makes my feet like the feet of the deer, He enables me to tread on the heights." (Habakkuk 3:19)
Friend, intentionally spending time with God will do that for us too. It's like a detox for our soul, scrubbing all of the hopelessness of the world and refocusing us on eternity.
We are so glad to have you in Bible study with us! If you miss a devotion, you can find them archived at https://comethirstyministry.com/blog/
Reading Plan- Week Forty-Eight
Day One- Habakkuk 2
Day Two- Habakkuk 3
Day Three- Zephaniah 1
Day Four- Zephaniah 2
Day Five- Zephaniah 3