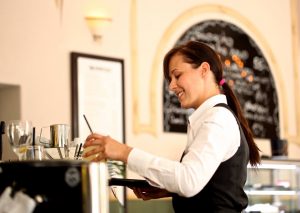 I paid for two college degrees waiting tables throughout high school and college. I not only loved it, I was really good at it. (I once got a $100 tip off of a table that wasn't even mine because the man paying the bill thought that the stories I was telling the table next to him were hilarious. True story.)
Anyway, the IRS wants to make sure that wait staff pay taxes on their tips, but the only way that they can know how much a person makes in cash tips is by that person self-reporting the amount. As you might imagine, this system is fraught with challenges. No person that I ever worked with did that except me. Here's why I did.
As a kid, my mom made us memorize Colossians 3:17. "Whatever you do, work at it with all your heart, as working for the Lord, not for men." That verse stuck with me and as my teenage hand wrote the honest number of tips I had earned on my tip card each night, I imagined that I was working for God. Fudging the numbers while working for God seemed like a really bad idea.
There were two unexpected consequences of my actions.
First, other people noticed. I am from Oregon, the least churched state in the country. For the vast majority of people that I worked with I was literally the only Christian that they had any contact with on a regular basis. When I was doing things differently (and to them, absurdly) they naturally wanted to know why. I had the opportunity to explain to them that I was working for the Lord. Though no one prayed to accept Jesus as their personal Savior because of my tip card, I hope that my honesty left the door open for the next Christian who came into their lives.
Second, God honored my honesty. I was paying for college myself and it was literally paycheck to paycheck. I couldn't afford to miss any work at all or my rent wasn't getting paid. God always made sure that I had a job. When other students were struggling to find work, I had jobs the day I needed them. Every time. Further, He always provided extra (or longer) shifts when I needed them. I never had a bill I couldn't pay.
When we chose to work in such a way that we make God proud, He can do more with it than we could ever imagine. It's important for our own spiritual lives, is a good example to those around us and is something that God honors.
We are so glad to have you in Bible study with us! If you miss a devotion, you can find them archived at https://comethirstyministry.com/blog/
Reading Plan- Week Thirty-Seven
Day One- Colossians 3
Day Two- Colossians 4
Day Three- 1 Thessalonians 1
Day Four- 1 Thessalonians 2
Day Five- 1 Thessalonians 3