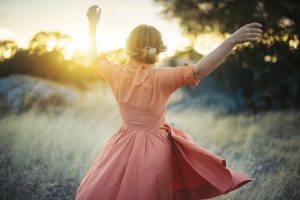 Welcome to our first week of Bible study in 2018! I think it is absolutely perfect that we begin the new year in the book of Ruth, don't you? Right in the middle of all of our resolution making, we open our scriptures and find two brave women who took an honest look at their life situations and said: This is not working,
And then they did something about it.
Things had not gone well for Naomi and Ruth. They had each lost a husband. Naomi, both her sons. Tragically, Ruth had no children to bring her joy or security in her future. Things looked bleak!
Have you been in bleak circumstances? I have! Sometimes those situations are the exact thing that God uses to encourage us to make a change that He wants us to make. God had big plans for Naomi and her daughter-in-law Ruth, but those plans necessitated them leaving where they were in the country of Moab and moving back to Naomi's home of Israel. God allowed their circumstances to get to a point where they were both very willing to leave.
Are there things in your life that just didn't work in 2017? There's good news! This year can be different. We may need to make a dramatic change in our physical location, like Naomi and Ruth, but it could be that what is holding us back from living completely in God's will is subtler. Perhaps now is the time to finally forgive that person who wronged you. Maybe now is the time to obey that nudging of the Holy Spirit you've been feeling. This may be the day to lay aside every hinderance that is ensnaring us so that we can run our life race exactly as God intended us to. (Hebrews 12:1)
When we are willing to follow God's lead, sometimes making courageous changes in our lives like Naomi and Ruth, we will find what Naomi and Ruth found. Living in God's perfect will allows us to be used and blessed by God, take it from these two, that's the only way to live.
Happy New Year!
We are so glad to have you in Bible study with us! If you miss a devotion, you can find them archived at https://comethirstyministry.com/blog/
Reading Plan- Week One
Day One- Ruth 1
Day Two- Ruth 2
Day Three- Ruth 3
Day Four- Ruth 4
Day Five- 1 Samuel 1