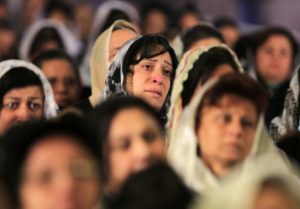 When the Romans began crucifying people, it was so painful that they had to invent a new word to describe it- excruciate. This Latin word is the root of the English word "excruciating." It was a new level of unbearable torture that the word had never seen before.
The scene at the cross described in the gospels was certainly more horrifying than we can imagine. And yet, at the cross, both Matthew and Mark note a group of "many women" (Matt. 27:55) who stayed until the very end.
This group of women were followers of Jesus. It included Mary the mother of Jesus, Mary Magdalene, the mother of James and John and others. These women stood at the cross in stark contrast with the disciples who bolted at the first sign of trouble. The New International Greek Testament Commentary says, "Here the presence of the women at the cross marks profound loyalty to Jesus despite all that has happened to Him in contrast to the behavior of the male disciples."
The emotional strength that it would have taken for these brave women to keep watching what they were seeing, is truly breathtaking. No matter what happened, they would not abandon their Savior.
These women no doubt found strength in each other. Being together allowed them to comfort one another. While their pain must have been profound, I imagine that each of them knew that Mary, Jesus' mother, was watching her baby die up on that cross. As women do, I imagine that they held her, cried with her and whispered words of comfort to her in the darkest moment of her life.
I'm so grateful that Mary wasn't alone while she watched her son die, aren't you? Without this community of women, how would she have survived that day?
There will be times when you or I can comfort a broken heart. Our presence and gracious words may be the only thing that holds that person together, whether we know it or not.
God doesn't expect us to navigate our most horrific experiences alone. In 1 Thessalonians 5:11, Paul told the church there; "Therefore encourage one another and build one another up, just as you are doing." Galatians 6:8 tells us that bearing each other's burdens helps us fulfill the law of Christ. To a heartbroken world, it's our sacred privilege.
(For those who have missed any of the previous lessons, you can go to https://comethirstyministry.com/blog/ and view all previous postings.)
Week Thirty-Three
Day 1: Matthew 27:11-26 (Pilate's wife)
Day 2: Matthew 27:45-66 (The women at Jesus' death)
Day 3: Matthew 28:1-20 (Mary and Mary)
Day 4: Mark 1:1-30 (Peter's Mother-In-Law)
Day 5: Mark 5:21-24 and 35-43 (Jarius's daughter)