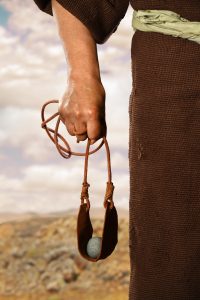 The Philistine army was thoroughly enjoying playing cat and mouse with the Israelites. They had the Israelite army vastly outnumbered and so outgunned (so to speak) that actually defeating them in battle seemed almost boring. And that didn't even count their hero Goliath.
The Philistines are historically famous for being brilliant metal workers. They were also very savvy and kept their technology to themselves. First Samuel 13:19-22 records this:
"No blacksmith could be found in all the land of Israel because the Philistines had said, 'Otherwise, the Hebrews will make swords and spears.' So all the Israelites went to the Philistines to sharpen their plows, mattocks, axes and sickles…So on the day of battle not a sword or spear could be found in the hand of any of the troops who were with Saul and Jonathan; only Saul and his son Jonathan had weapons."
The Philistines could have easily crushed the Israelites any time they wanted to, and both armies knew it. Instead of actually doing this, however, the Philistines decided on psychological warfare. Day after day, Goliath mocked the Israelite army. The Israelites had no response. It is no wonder that the they were in no hurry to engage the Philistines in battle. Imagine taking a stick to a sword fight!
Goliath had gotten into their heads. Then young David showed up. He famously killed Goliath, infusing the Israelites with enough courage to win the battle.
David's circumstances weren't any different than any of the soldiers in the Israelite army; he didn't have a sword, armor or spear either. The only thing that separated every man in the Israelite army and David was their perspective. While the Israelites were busy looking at Goliath and the Philistines and shaking in their sandals, David had his eyes on God.
In Psalm 16:8 David wrote: "I keep my eyes always on the Lord. With Him at my right hand, I will not be shaken."
You and I face giants also. Many times, we, like the Israelites, will be outnumbered and outgunned. If we find ourselves shaking in our boots, it may be that we are making the same mistakes that the Israelites made and we have our eyes in the wrong place. Changing our focus from our problem to our God will make all of the difference.
We are so glad to have you in Bible study with us! If you miss a devotion, you can find them archived at https://comethirstyministry.com/blog/
Reading Plan- Week Five
Day One- 1 Samuel 17
Day Two- 1 Samuel 18
Day Three- 1 Samuel 19
Day Four- 1 Samuel 20
Day Five- 1 Samuel 21