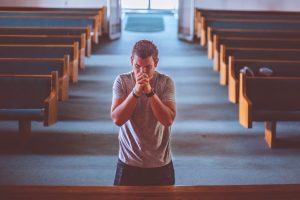 Once, when I was a kid, Billy Graham preached a crusade in Oregon. It was such an event that our family traveled all the way to the big city to see him. I had never seen so many people in my entire life!
Reverend Graham preached a simple sermon about the prodigal son and I remember thinking that there was really nothing special about it. It was not particularly profound or entertaining. However, as soon as Reverend Graham began giving the alter call, people started streaming to the front of the stage to meet with a prayer partner and receive Jesus as their personal Savior. It seemed to me that thousands of people were giving their lives to Jesus right before my eyes. It was jaw-dropping to watch.
Years later, I found out Billy Graham's secret to success in ministry. It wasn't his own charisma or his talent for public speaking. His real secret was prayer. In fact, I learned that he wouldn't even sign-on to lead a crusade in a city unless 100 churches committed to pray for him for an entire year!
At the end of his letter to the Ephesians, the apostle Paul begged the church there to remember to pray for him and his ministry. "Pray also for me, that whenever I speak, words may be given to me so that I will fearlessly make known the mystery of the gospel, for which I am an ambassador in chains. Pray that I may declare it fearlessly, as I should (Eph. 6:19-20)." Paul knew that without prayer, his work would not be nearly effective enough.
You and I may or may not be in full-time vocational ministry, but no matter what, we have a holy responsibility to pray for people who are, starting with our own pastor.
In the book of Nehemiah, the Jews were facing great opposition as they rebuilt the wall of Jerusalem. It became so intense that Nehemiah divided the people in half. From then on, half of the people worked on the wall and half of them stood behind the workers with their weapons drawn, defending them so that they could actually get the wall built.
When we pray for others who are in ministry, we are, in effect, being their spiritual defenders so that they can more effectively do the work that God has assigned them to do. Our prayer is vital! If we want to see our communities changed by the gospel but don't know where to start, we can start by praying for those doing ministry in them.
We are so glad to have you in Bible study with us! If you miss a devotion, you can find them archived at https://comethirstyministry.com/blog/
Reading Plan–Week Thirty-Five
Day One–Ephesians 3
Day Two–Ephesians 4
Day Three–Ephesians 5
Day Four–Ephesians 6
Day Five–Philippians 1