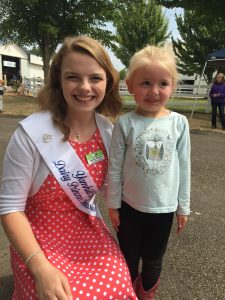 While attending our county fair recently, my four-year old had an experience that may have changed the trajectory of her entire young life and it all happened while we were watching the dairy cow show. Somewhere between the Holsteins and Jerseys, Abigail caught sight of her- an Oregon dairy princess.
To Abigail, the dairy princess may as well have been Cinderella at Disneyland. The princess had a beautiful dress, fancy shoes, a sash proclaiming her title and to top it off- alighting her perfectly coiffed head of hair sat a tiara.
That was it. My child had finally found her true calling in life. She is going to be a dairy princess. (Never mind that we raise beef cows, not dairy.)
In a happy coincidence, we ran into the dairy princess the next day and Abigail was able to have her picture taken with her. (Sadly, the princess was no longer wearing her crown. Ab's was slightly devastated to learn that she didn't actually sleep in it. She's planning to sleep in hers.)
Abigail's newfound calling has turned out to be a blessing for me. She is my most emotional child and for the past week or so, every time that she has a break-down (which is at least twice an hour) I inform her that dairy princesses don't throw fits. If she plans to be a princess, I remind her, she had better start acting like it. My parenting method may be slightly suspect, but I plan on going with it as long as it's having any level of success.
The apostle Paul had some similar advice for the Ephesian church. He wrote: "Therefore I, the prisoner in the Lord, urge you to live worthy of the calling you have received (Eph. 4:1)." The Amplified Bible adds, "With behavior that is a credit to the summons to God's service."
Paul was reminding the Ephesians (and us) that it is a great privilege to be a child of the living God and they had better act like it. He went on to give the Ephesians some specifics on just how a child of God should behave. "With all humility and gentleness, with patience, bearing with one another in love, making every effort to keep the unity of the Spirit through the bond of peace (Eph. 4:2-3)."
And you know what? We can do this! We can live in a manner worthy of our calling. We just have to remember that our station in life is too important to allow ourselves to be entangled in jealousy, pride, anger, selfish ambition or unnecessary conflict. That kind of behavior is beneath the dignity of our calling. We can, instead, choose to live as who we really are: children of God.
We are so glad to have you in Bible study with us! If you miss a devotion, you can find them archived at https://comethirstyministry.com/blog/
Reading Plan–Week Thirty-Five
Day One–Ephesians 3
Day Two–Ephesians 4
Day Three–Ephesians 5
Day Four–Ephesians 6
Day Five–Philippians 1