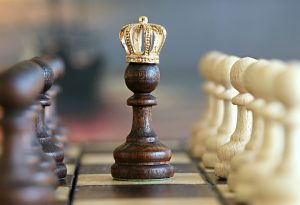 Saul, the first king of Israel, was a promising monarch. In fact, at the beginning of his reign, Saul had a few characteristics that we could all learn from.
First, Saul allowed God to shape his future. Saul had a pretty solid idea of how his life was going to go. He wasn't at all thrilled when the prophet Samuel tapped him to be Israel's first king. However, he was flexible enough to allow God to change his heart. First Samuel 10:9 says, "When Saul turned around to leave Samuel, God changed his heart." (Emphasis mine.)
Learning to be flexible enough to allow God to change our hearts is a key to living the abundant life that God has planned for us.
Second, Saul knew how to bring people together in unity. When Saul was faced with his first crisis as king, he needed the entire nation to see his vision and follow his lead. He found a way to bring everyone together. His plan worked. "As a result, the terror of the Lord fell on the people, and they were united." (1 Sam. 11:7)
Finally, not everybody was thrilled when Saul was anointed king. They refused to treat him with the respect his new office demanded. Instead of bringing the hammer down on these people, Saul let it go. "But Saul said nothing," the Bible tells us. (1 Sam. 10:27)
After his first victory, some of Saul's supporters urged him to kill the people who had refused to back him. Even with the adrenaline rush of victory pumping in his veins, Saul refused to be vindictive. (Though he certainly had the power- and maybe even the right- to make an example of these men.) Saul chose to show grace. Saul ordered, "No one will be executed this day, for today the Lord has provided deliverance in Israel." (1 Sam. 11:13)
Being flexible enough to allow God to change our hearts, learning how to bring people together in unity and choosing to show grace to others are some of the most important characteristics of a world changing Christ follower. At this early point in his royal career, Saul was doing it all.
We are so glad to have you in Bible study with us! If you miss a devotion, you can find them archived at https://comethirstyministry.com/blog/
Reading Plan- Week Three
Day One- 1 Samuel 7
Day Two- 1 Samuel 8
Day Three- 1 Samuel 9
Day Four- 1 Samuel 10
Day Five- 1 Samuel 11