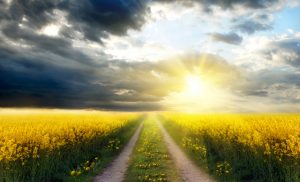 A woman in my Bible study has been walking with some dear family friends though the end of life process with their elderly mother. The mother is a lovely Christian woman, but this process has been long and painful. The mother has been bed-ridden for some time and one day was holding her husband's hand as he sat in the chair that he had pulled close to her bed. They were talking about nothing in particular when all of a sudden she said, "Jesus is here. I have to go." And she died.
In a split-second, this Godly woman left the pain of her disease and the emotional agony of leaving her family and stepped into eternal glory.
In First Corinthians 15:51-53, the apostle Paul wrote; "Listen, I tell you a mystery: We will not all sleep, but we will all be changed- in a flash, in the twinkling of an eye, at the last trumpet. For the trumpet will sound, the dead will be raised imperishable, and the mortal with immortality."
A few verses later Paul continued, "But thanks be to God! He gives us the victory through our Lord Jesus Christ (vs.57)."
In this letter to the Corinthians, Paul spent many chapters explaining to the Corinthians how they should live in response to their love for Christ. Some of what he told them was easier to live out than others. He added these verses to remind them that anything that happens here on earth is just temporary. Any hardship, any work, anything that they had to give up…it would all be easier to manage if they remembered that compared to what they had coming in Heaven, was nothing.
In light of all of this, Paul concluded: "Therefore, my dear brothers, stand firm. Let nothing move you. Always give yourselves fully to the work of the Lord, because you know that your labor is not in vain (vs. 58)."
Of course, all of this is true for us also. Keeping one eye on eternity will make us more effective (and happier) Christians.
We are so glad to have you in Bible study with us! If you miss a devotion, you can find them archived at https://comethirstyministry.com/blog/
Reading Plan–Week Twenty-Nine
Day One–1 Corinthians 13
Day Two–1 Corinthians 14
Day Three–1 Corinthians 15
Day Four–1 Corinthians 16
Day Five–2 Corinthians 1