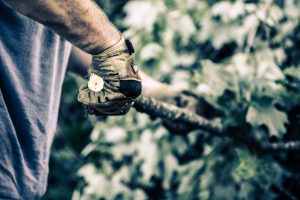 Over the last few weeks, we have been able to witness (and hopefully even participate in) Christians answering the apostle Paul's prayer from Second Thessalonians. In the first chapter Paul wrote; "We always pray for you that our God will make you worthy of his calling, and by his power fulfill every desire to do good and your work produced by faith, so that the name of our Lord Jesus will be glorified by you, and you by him, according to the grace of our God and the Lord Jesus Christ (vs. 11-12)."
Did you catch the phrase "fulfill every desire to do good?" God has given the church a strong desire to "do good" in the world, and give God glory in the process. Hurricanes Harvey and Irma allowed for such an opportunity.
According to an article in USA Today, about 75% of the disaster recovery efforts for these two hurricanes are being provided by faith-based organizations. FEMA doesn't even come close. The article noted that churches and parachurch ministries are in a position for fast response to disasters because they are well prepared. Many of them have warehouses stocked with supplies that are ready to hit the road at a moment's notice. In fact, Convoy of Hope, for example, had driven three trailer trucks stocked with food, water and sanitary supplies to Florida and was on the ground before Hurricane Irma even made landfall. Samaritan's purse was similarly positioned.
I watched a television interview with a person in Florida who said that she cried when she saw the Texas license plates of volunteers coming to help her clean-up her home. "They left their own disaster to help us" she said in amazement.
This fast, efficient and loving response by Christians to a hurting world is something that opens people's hearts to the gospel. It has been getting people's attention since Jesus was on earth. John 6:2 tells us that a "huge crowd" was following Jesus because He was healing the sick. This crowd was able to hear what Jesus was teaching because He was meeting their physical needs. Isn't that gorgeous?
There is a story in Acts 16 where an earthquake hit a jail that was housing Paul and Silas in the middle of the night. It was such a hopeless situation for the jailer that he pulled his sword to commit suicide! Paul and Silas' quick response was so powerful that instead of killing himself, the jailer ended up asking them, "Sirs, what must I do to be saved?" Right in the middle of that collapsed building, that man came to salvation.
When people are standing in the rubble of their own personal devastation, with a million questions, may we be there with a helping hand pointing them to the ultimate answer- Jesus Christ Himself.
We are so glad to have you in Bible study with us! If you miss a devotion, you can find them archived at https://comethirstyministry.com/blog/
Reading Plan- Week Thirty-Eight
Day One- 1 Thessalonians 4
Day Two- 1 Thessalonians 5
Day Three- 2 Thessalonians 1
Day Four- 2 Thessalonians 2
Day Five- 2 Thessalonians 3