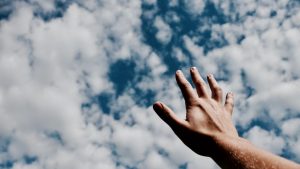 Have you ever just felt unsettled? Perhaps a career or military life has kept you on the move and it leaves you longing to put down some roots and just be home.
If so, you probably have a little taste of what King David must have felt for the fifteen years between being anointed king by the prophet Samuel and actually becoming the king of Israel when he was thirty years old. David had spent those years barely scrapping by. Begging for basic provisions for himself and the men with him. Hiding out in caves, living in foreign countries, hiring himself and his men out as mercenaries just to stay alive. If there was ever an unsettled life, it was David's and the Psalms that he wrote during this period reflect the loneliness and difficulty he felt being unsettled. Sometimes he wondered if God had forgotten him.
We have to wonder then, what it must have been like for David when he was finally crowned king. It must have been the most surreal experience. All of a sudden, David found himself right where he knew he was supposed to be. At last, he was home.
Second Samuel 2:3 tells us that David and his family settled in Hebron. Settled. Finally.
Was David's first emotion actually relief?
If we hoped that the transition of power that accompanied David becoming king was a peaceful one, we would be disappointed. Second Samuel 3:1 notes that the war between the previous king's family and David "lasted a long time." That's life, isn't it? Just when we get "settled" we find another obstacle.
Aren't we glad that this earth isn't all there is? Our home is in Heaven, where we will finally, actually feel at home. "But our citizenship is in Heaven, and we eagerly wait for a Savior from there, the Lord Jesus Christ." (Phil. 3:20) Keeping one eye on our eternal home will help us navigate the ups and downs of life on earth with hope and peace.
We are so glad to have you in Bible study with us! If you miss a devotion, you can find them archived at https://comethirstyministry.com/blog/
Reading Plan- Week Seven
Day One- 2 Samuel 1
Day Two- 2 Samuel 2
Day Three- 2 Samuel 3
Day Four- 2 Samuel 4
Day Five- 2 Samuel 5