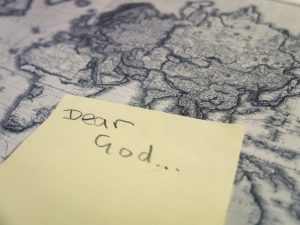 "And some of them said, 'Could not this Man, who opened the eyes of the blind, also have kept this man from dying (John 11:37)?'" As people stood around Lazarus' tomb, they were baffled. Jesus healed people every day, why didn't He heal His dear friend? Letting him die didn't make any sense at all. Didn't Jesus care?
Have you ever felt that way? I have. I have a blind eye and another eye that has a disease that might cause me to be completely blind at any moment. People have been praying for my eyes to be healed for decades. Why hasn't God healed me?
The truth is that Jesus did care about Lazarus. He was standing at the tomb weeping as they spoke. He cares about each of us too. Isaiah 53:3 reminds us that our Savior was, "a Man of sorrows and acquainted with grief."
We may not always receive the kind of dramatic answer that Mary and Martha got when they saw their formerly dead brother shuffle out of the tomb wrapped in his grave clothes, but we can have faith that God will work all of our troubles out for His glory and our good. Even if it doesn't end the way that we hope.
We are so glad to have you in Bible study with us! If you miss a devotion, you can find them archived at https://comethirstyministry.com/blog/
Reading Plan–Week Sixteen
Day One–John 8
Day Two–John 9
Day Three–John 10
Day Four–John 11
Day Five–John 12