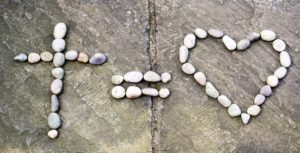 There's one thing that I can never get over surrounding the crucifixion story. Jesus was betrayed by His close friend and He knew it was going to happen. Does that hit you the way it does me? Betrayal hurts no matter where it comes from, but coming from a person whom you love and are devoted to- someone that you have a history with- is excruciating.
In 2 Samuel, there is another example of betrayal between friends. Uriah the Hittite is listed as one of David's Mighty Men (2 Sam. 23:39). These men were brave, strong and completely devoted to their King. Uriah never imagined that the biggest threat to his marriage, and ultimately his life, would come from a man who he had proven his loyalty to again and again, his trusted friend, King David. Had he known, he could have protected himself and his marriage from the pain of it.
Uriah may have been blind-sided by King David, but Jesus wasn't blind-sided by His friend Judas. Jesus knew that Judas was going to betray Him when He chose him as a friend. He knew the pain that Judas would cause Him and He let him in anyway.
We don't know exactly why the story of Judas played out the way it did. However, it might have been for our benefit. Isaiah 53:3, prophesied that the Messiah would be familiar with the kinds of grief that we know. How better to be acquainted with our grief than to experience it for Himself?
We can take our grief to God, because He knows how we feel (and He can do something about it).
We are so glad to have you in Bible study with us! If you miss a devotion, you can find them archived at https://comethirstyministry.com/blog/
Reading Plan–Week Fourteen
Day One–Luke 22
Day Two–Luke 23
Day Three–Luke 24
Day Four–John 1
Day Five–John 2