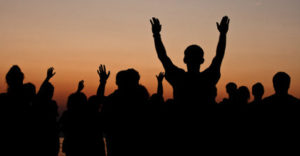 A lot happened between Esther chapter four, where the entire Jewish population had been given a death sentence, and chapter eight where their archrival, Haman, had been hung on his own gallows and Queen Esther had successfully found a way to save her people. The pivot in the story comes in Esther 4:15. "Then Esther told them to reply to Mordecai, 'Go, gather all the Jews who are present in Shushan, and fast for me; neither eat or drink for three days, night or day."
In most Middle Eastern fasting, people are only expected to fast during the day, dehydration being a serious risk in their climate. But Queen Esther was desperate. She knew that she would have only one shot at meeting with the king, and she needed her people to pray like they had never prayed before without any distractions.
Sincere prayer is beautiful in any form. Revelation 8:4 describes our prayers as incense rising to the very throne of God- every single one. How much more beautiful must corporate prayer be to our Father? The image of millions of people, of every age and walk of life bowing their heads in unified prayer to God is magnificent!
The Esther story proves to us that humble, specific, passionate prayer can change the fate of an entire nation because it is an invitation for God to step in. Our God is a gentleman. He often will not interfere in our situations unless we ask Him to. God will not force His blessing or protection on us. As long as we think that we can handle things on our own, He usually lets us try.
I have a feeling that God was watching His children in Persia drumming His fingers saying, "Please- ask for my help!"
Second Chronicles 16:9 says that, "The eyes of the Lord run to and from throughout the whole earth, to show Himself strong on behalf of those whose heart is loyal to Him." When He saw the nation praying in mass He was quick to answer.
Pollster George Barna reports that out of 12 priorities, pastors rank prayer dead last, with only 3% ranking prayer as their top priority. Further, the average pastor self-reported that they spend less than 10 minutes a day in prayer. If this is pastors, how much less is the average Christian is praying? And we wonder why we aren't seeing God intervene more in our homes, churches and nation!
Did you know that before both of the Great Awakenings and WWII there were great prayer efforts in our country? That's no coincidence. God was answering the corporate prayer of His people.
James 4:2 tells us that we "have not because you ask not." God wants us to ask and He loves it when we ask together. If we want to see Him do amazing things, we must ask and it's even better if we ask together.
(For those who have missed any of the previous lessons, you can go to https://comethirstyministry.com/blog/ and view all previous postings.)
Week Twenty-Four
Day 1: Esther 4:1-17 (Esther)
Day 2: Esther 5:5-14 (Esther)
Day 3: Esther 6:1-14 (Esther)
Day 4: Esther 7:1-10 (Esther)
Day 5: Esther 8:1-17 (Esther)