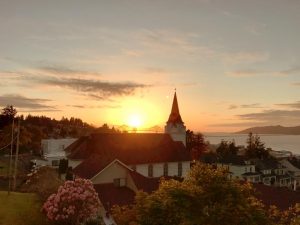 The book of Acts, as a work of ancient history, is without parallel. In fact, according to commentary in the Cultural Backgrounds Study Bible; "No nonhistorical work from antiquity exhibits so many correspondences with external information. Corroborating external information, in fact, may be more extensive for Acts than for any other book in the New Testament. As a work of ancient history, it fares well."
Since we can trust it to be true, when we read about the great works of God recorded in the book, and the incredible growth that the church had in the short period of time recorded, we had better pay attention to how that happened.
Acts 2:42 gives us a partial list of what the new community of Believers was up to. "They devoted themselves to the apostles' teaching and to fellowship, to the breaking of bread and to prayer." This was not all that they did. We learn in other places that they were involved in help to the poor, in care for orphans and widows and they sent missionaries all over the known world. People were amazed at the miracles being performed by the apostles. All of this caused them to have (very short-lived) favor with the people around them (Acts 2:37).
The new church wasn't perfect, problems arose quickly. But even with its lack of perfection, God blessed the new church greatly, because they were pursuing the right things. Likewise, when we pursue these same right things; Bible study, fellowship with other Believers, prayer, and good works in our communities, God will bless our lives with spiritual fruit also, whether we do it with perfection or not.
We are so glad to have you in Bible study with us! If you miss a devotion, you can find them archived at https://comethirstyministry.com/blog/
Reading Plan–Week Nineteen
Day One–Acts 2
Day Two–Acts 3
Day Three–Acts 4
Day Four–Acts 5
Day Five–Acts 6