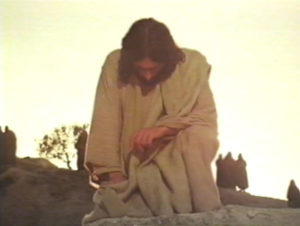 When a person knows that death is eminent they want to make sure that the people closest to them know exactly what is in their heart. When Jesus prayed in John 17, He knew that these would be some of the last words that He would speak while encumbered by His earthly body. His words were measured and deliberate. He pulled His disciples close enough to hear and prayed a remarkable prayer, for Himself, His disciples and for us.
He meant for us to hear His prayer, as He said to His Father, "I am coming to you now, but I say these things while I am still in the world, so that they may have the full measure of My joy within them (John 17:13)."
First, Jesus wanted us to know that He had given us the blueprint for salvation. "Now this is eternal life; that they may know you, the only true God, and Jesus Christ, whom You have sent (vs.3)." It's the only way and it is so simple. It's also all-inclusive. Truly anyone who knows God as "the only true God" and accepts His Son as Messiah, will receive eternal life. Those are the only conditions.
Second, Jesus knew that by receiving eternal life through His name, and becoming His disciples, we would become aliens on this earth. Therefore, He prayed, "My prayer is not that You take them out of the world but that you protect them from the evil one. They are not of the world, even as I am not of it (vs. 15)."
How are we protected spiritually from the evil one in this world? Sanctification. Sanctification is the process of becoming holy or "set apart" for a specific and special purpose. "Sanctify them by the truth; Your Word is truth (vs. 17)." We cooperate in this process by aligning our hearts and minds with the truth of God's Word. Right living is protection for our souls.
Jesus also expected that our lives would bring much spiritual fruit. "My prayer is not for them alone. I pray also for those who believe in me through their message (vs. 20)." Isn't is good news that we have purpose? That what we are called to do will be eternally effective?
Finally, Jesus prayed that His disciples (including you and me) would be unified by their love for God. In a world divided by nearly everything, our unity as Believers in Christ should stand out. "May they be brought to complete unity to let the world know that You sent Me and have loved them even as You have loved Me," Jesus prayed (vs. 23).
With some of His last words, Jesus prayed that we accept salvation, are protected from the evil one, that we would live spiritually significant lives and that we would love each other. This is the heart of God for us, His children.
(For those who have missed any of the previous lessons, you can go to https://comethirstyministry.com/blog/ and view all previous postings.)
Week Forty
Day 1: John 12:1-11 (Mary and Martha)
Day 2: John 17:20-26 (Jesus Prays for Us)
Day 3: John 18:1-25 (Peter and the Servant Girl)
Day 4: John 19:17-37 (Women at Jesus' Death)
Day 5: John 20:1-18 (Mary Magdalene)