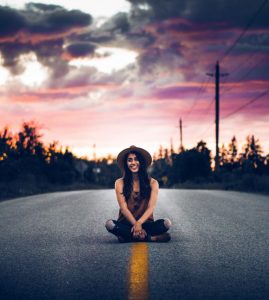 My oldest daughter, Ryann, is an extraordinary reader. When she was seven, she asked me what "circumcision" was. "Ummm…where did you see that word?" I stumbled.
"Genesis," she answered.
Okay, then. Interesting conversation, which I was entirely unprepared for, ensued.
When Ryann was six years old, my husband took a class at church in which they were challenged to memorize the entire book of James from the Bible. To help him study, my husband had Ryann read through James as he recited it. If he forgot what came next, Ryann would read it to him.
As it turned out, Ryann memorized the entire book too. It starts like this: "Consider it pure joy, my brothers, whenever you face trials of many kinds, because you know that the testing of your faith develops perseverance (James 1:2-3)."
These verses sound so sweet when they are being recited by a six-year-old. It was easy to nod my head approvingly as she spoke them. But, do you know what? They are stinking hard to live by!
Naturally, we don't move straight to joy in the midst of our struggles. I'm as guilty of it as anybody. My first response is to beg God to get me out! But what if we went straight to joy? What if, when we face a huge issue, which we are entirely unable to change on our own, our first response was; "Well, God. You see this thing I am dealing with. You know I don't have the power to fix it. You do, though! I'm excited to see how you take care of it and what I learn through it." That kind of attitude would change everything!
So many of our struggles are allowed by God so that we will grow in Him. James challenges us not to waste the opportunity. Each trial should make us spiritually stronger. As Jeremiah put it, "If you have raced with men on foot and they have worn you out, how can you compete with horses? If you stumble in safe country, how will you manage in the thickets by the Jordan (Jer. 12:5)."
Maybe you and I need to rearrange our thinking. I'm going to try. How about you?
We are so glad to have you in Bible study with us! If you miss a devotion, you can find them archived at https://comethirstyministry.com/blog/
Reading Plan- Week Forty-Four
Day One- Hebrews 12
Day Two- Hebrews 13
Day Three- James 1
Day Four- James 2
Day Five- James 3