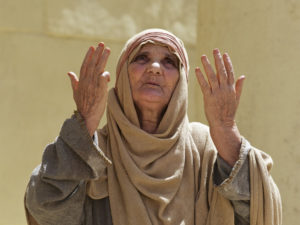 We know only a few things about the prophetess Anna whose story is found in Luke 2. One of the most striking things noted is that she was ancient! (Luke politely says she was of "great age.") Commentators are divided on whether the eighty-four years noted in scripture is her actual age or the number of years since she became a widow, which, if the case, would make her more than 100 years old!
No matter what the number, we know that Anna had not settled into a comfortable retirement. She was still actively ministering in the temple "night and day." Luke mentioned that she was from the tribe of Asher. This might explain her vibrancy and good health in her advanced age. In Deuteronomy 33:25, Moses prophesied of that tribe, "your strength will number your days." Anna certainly proved this to be true!
Anna was widowed at a very young age, and most commentators conclude that it was after she became a widow that she began her life of service as a prophetess in the temple. It is even possible that she lived on the temple grounds as some of the temple ministers were known to do.
Of course, we love the idea of a precious older woman still active in ministry. We all want to be like that, finishing our life of faith well. But I will let you in on a little secret. Precious older saints don't usually start their ministry lives at 80 years of age. What we usually find is that they are the very ones who have been active in ministry for decades.
In 1 Kings 18, we meet a great hero of the faith named Obadiah. Obadiah saved one hundred prophets of God from being murdered. He told Elijah, "I have been a true servant of the Lord all my life (vs. 12.)" Obadiah is one of many examples in scripture of people who were able to finish well because they began well. If we want to turn into inspirational silver haired saints, like Anna, we need to start now.
(For those who have missed any of the previous lessons, you can go to https://comethirstyministry.com/blog/ and view all previous postings.)
Week Thirty-Six
Day 1: Luke 2:21-40 (Anna)
Day 2: Luke 2:41-52 (Mary)
Day 3: Luke 4:14-30 (Widow of Zarephath)
Day 4: Luke 7:1-16 (Widow)
Day 5: Luke 8:1-3 (Women Minister to Jesus) and Luke 8:40-48 (Healed Woman)